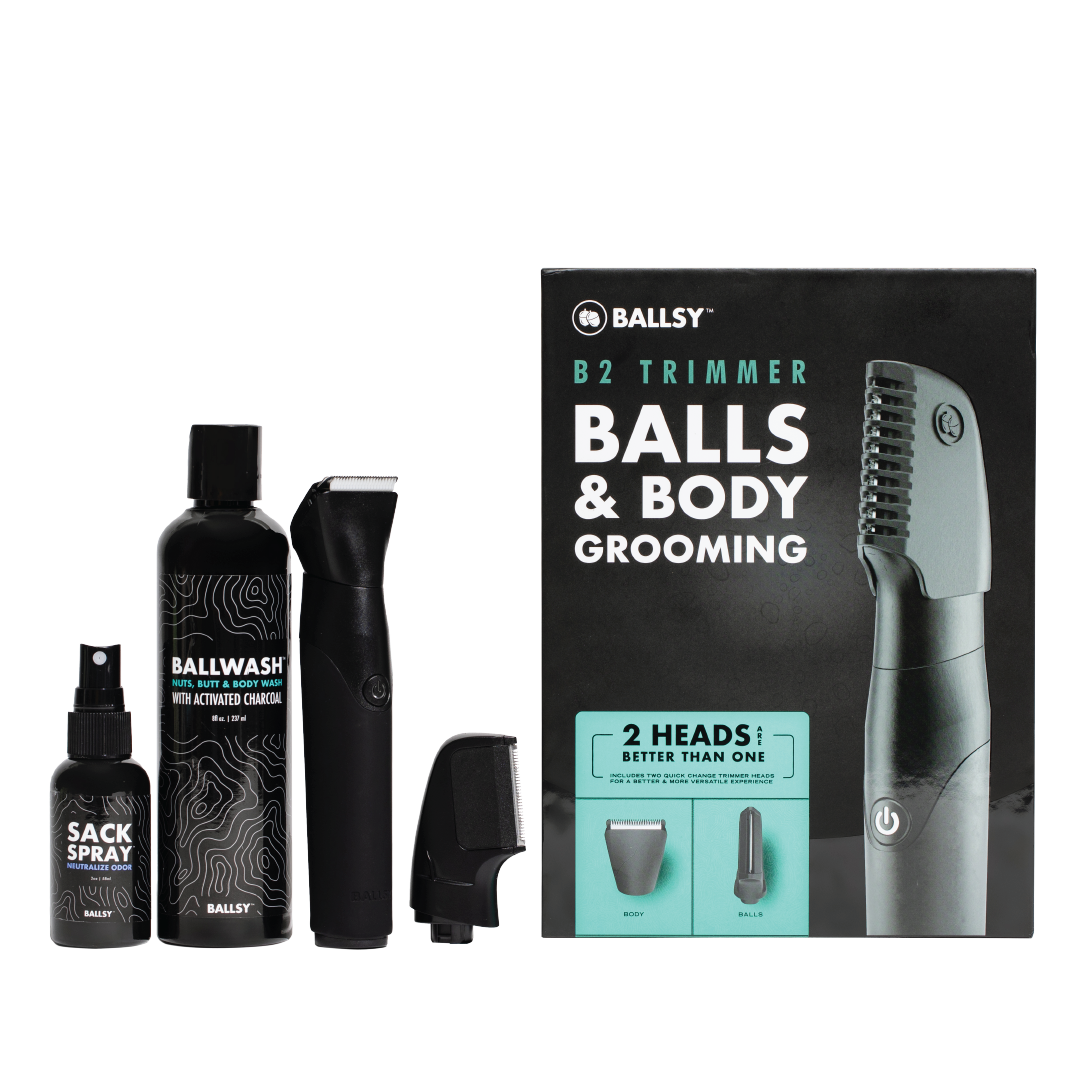 Joy To Your Nuts
Three of your favorite below-the-belt grooming items, bundled together to keep you trimmed, fresh, and smelling real good this Holiday season!
 *Gift boxes are not included.
B2 Waterproof Trimmer - with two heads specifically designed to manage body grooming and below-the-belt grooming to eliminate nicks, cuts and snags.
Ballwash - perfect for your balls and entire body. This body wash features activated charcoal and plant extracts that moisturize, cleanse and leave you smelling fantastic. Ballwash is bound to be one of your core and go-to products in the shower.  
Sack Spray -

pH balanced on-the-go refreshing spray that is formulated to help neutralize odor and skin irritation on your balls and body.  Spray 1-2 pumps whenever you could use a quick refresh!
Ball Wash: Purified Water, Sodium C14-16, Olefin Sulfonate, Acrylates Copolymer, Cocamidopropyl Betaine, Glycerin, Charcoal Powder, Fragrance, Sodium Chloride (Salt), Phenoxyethanol, Caprylyl Glycol, Ethylhexylglycerin, Sodium Hydroxide, Citric Acid, Aloe Powder, Vitamin E, Cucumber Extract,Chamomile, Licorice Root, Green Tea Extract, Lavender, Cedarwood Oil
Sack Spray: Water, glycerin, propanediol 1,3, sorbitan oleate, Zinc ricinoleate, sodium lauroyl sarcosinate, tetrahydroxypropyl ethylenediamine, polysorbate 20, fragrance, phenoxyethanol (and) caprylyl glycol, allantoin, citric acid, lavender essential oil, tea tree essential oil, aloe vera extract, witch hazel extract, chamomile extract, green tea extract
Quick change, interchangeable heads allow for easily trimming all different areas of your body while minimizing the nicks other trimmers cause.

B2 TRIMMER MITIGATES NICKS & CUTS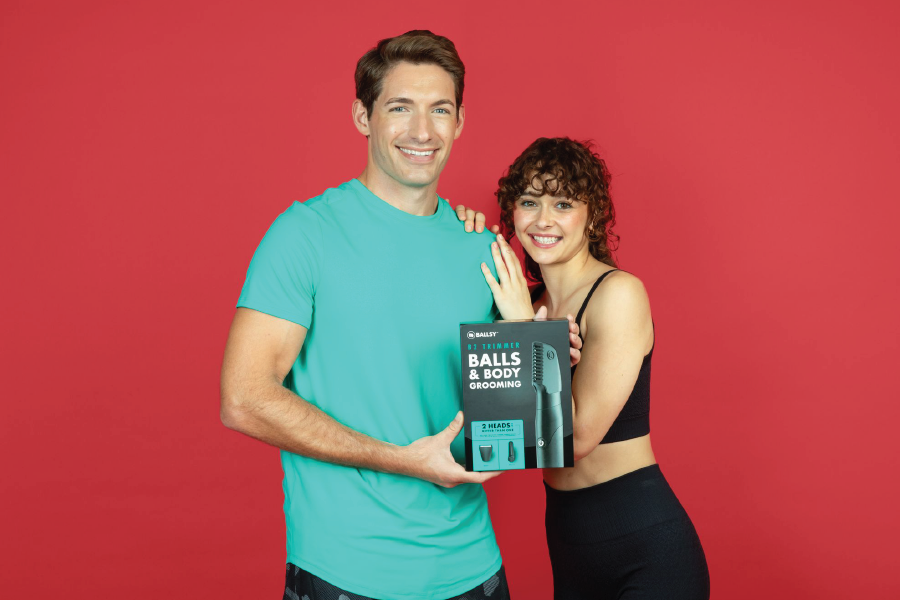 Ballwash's activated charcoal cleans dirt and odor causing bacteria to keep you feeling fresh and smelling great.

BALLWASH DEEP CLEANING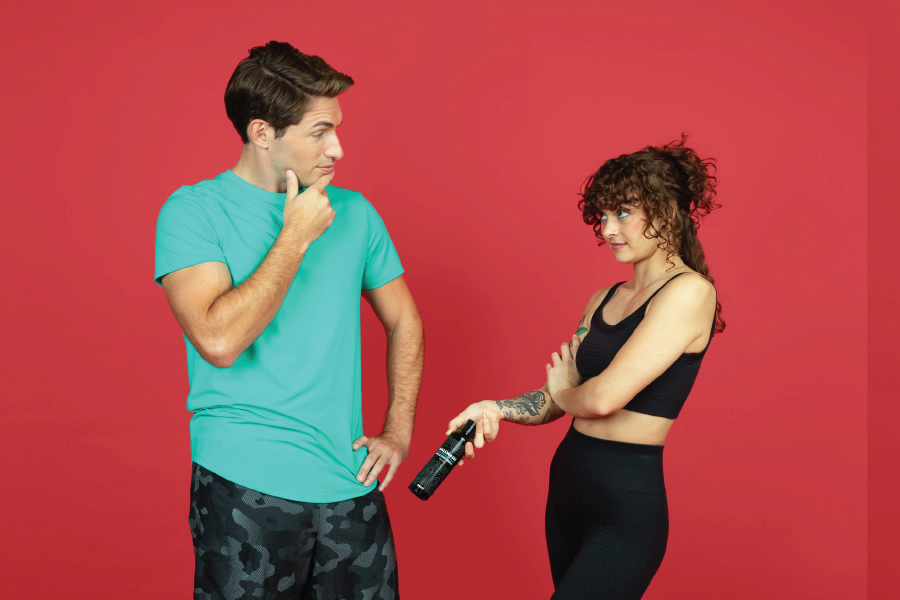 Sack Spray contains aloe vera and chamomile extract to help soothe and refresh skin. Zinc Ricinoleate absorbs moisture while helping to deodorize and refresh odor prone areas.

SACK SPRAY SOOTHING AND REFRESHING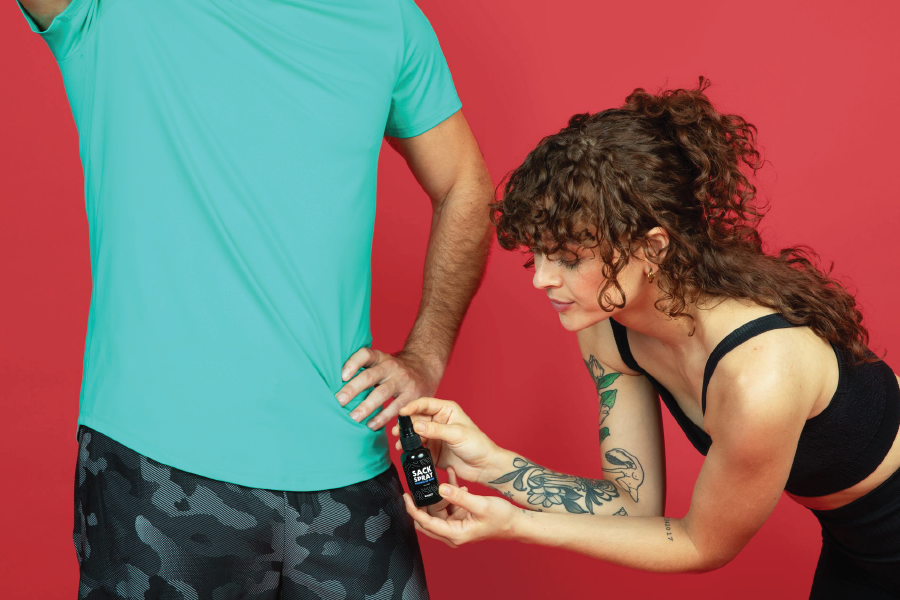 Sign up for the email list. never miss another deal.
that's ballsy.
What others are saying
TRIMMER IS GAME CHANGER
Unbelievably easy and comfortable. I mean I always trimmed or shaved before, and I've never had this level of comfort prior. Totally painless, and during a three week heatwave. Talk about new confidence, I've been telling every guy I know. Ballsy, hurry up and make more!
BALLGUARD KEEPS YOUR BALLS FRESH
I work 12 hours a day and it keeps my crotch FRESH smelling good. Smells fresh with an aquatic/ cologne after shave smell, definitely worth it. I've bought this continuously and it always works, solid product.
BETTER THAN MANSCAPED
Bought the Ballsy and the Manscaped trimmers. I only use the Ballsy. Much smoother and doesn't pull hair like the one Manscaped did. Very happy with the purchase.
BALL BALM IS TERRIFIC
I had a heat rash in the creases of my thighs and nether regions and this product saved me. Instant relief and within days it was resolved. Also does well as a deodorant.
LIFE CHANGER - NOT JUST FOR BALLS!
For years I've stuck to powders like Gold Bond, and they've never done the trick of alleviating irritation WHILE ALSO healing the skin. I bought Ballguard a couple days ago and it's changed my life, really. When I apply this stuff, my skin is cool and doesn't itch. I highly highly recommend this product.
don't just take it from us.